Pivot Table Fears + more Excel tips
Excel Weekly News from Contextures November 18, 2014
In this week's Excel news, you'll see what scares people about pivot tables, and much more. Thank you for reading the Excel news, and I hope that you are enjoying the articles. If you have suggestions for future topics, please let me know.
- Debra - ddalgleish@contextures.com
Create Custom Report Layouts from Pivot Tables
Pivot tables summarize large amounts of data, quickly and easily. However, you can't always get the exact layout and formatting that you need. Roger Govier shares his technique for setting up a custom layout, then using the GetPivotData function to pull in the summarized data..
Click here to see the details: Custom Report Layouts from Pivot Tables
Pivot Table Fears
What scares you about pivot tables? I asked that question on my pivot table blog, and you can see the results, now that the voting has closed. This was part of the online training giveaway, I was surprised by the results -- were you?
Congratulations to the 3 winners of the Xtreme Pivot Table Course, from John Michaloudis, from My Excel Online Training. Also, congratulations to the 2 runners-up, who could select any one of my Contextures products:
There is good news, even if you didn't win – John will give you a 25% discount on his Xtreme Pivot Tables course, if you use the coupon code CONTEXTURES, until Friday, November 21, 2014.
More Excel Tips
Here are a few of the Excel articles that I read recently, that you might find useful:
Excel Announcements
Here are some upcoming events, courses, recently published books, and other new items, related to Excel:
Video: Paste Pivot Table Formats
When you try to copy a pivot table's formatting and values to another location, the PivotTable Style formatting isn't copied. Use the technique shown in this video to successfully copy the formatting from a pivot table, without creating a new pivot table.
Signs of Winter
There are a few signs that winter is just around the corner. We've had a few snowflakes falling, all the leaves are gone from the trees, and I've got a head cold. It's a gift from my lovely granddaughter -- those little kids are adorable, but full of germs. ;-)
You can see some of my remedies in the picture below. Buckley's is an all-natural Canadian cold syrup, and it tastes horrible -- like a mixture of pine tar, old socks and turpentine. But it works!
Featured Excel Product
If you're really serious about tackling your Pivot Table fears, then the Xtreme Pivot Tables course, from John Michaloudis at My Excel Online Training, is the ideal solution. This course has over 200 videos, with approximately 9 hours total viewing time. The lessons are comprehensive and easy to understand, and you can download the sample Excel files, to follow along.
John has kindly offered a 25% discount on all his courses, if you use the coupon code CONTEXTURES, until Friday, November 21, 2014.
You can enhance your pivot table knowledt, to set your Excel skill level apart from your colleagues, and learn to make insightful business analysis and interactive reports that will reach top management.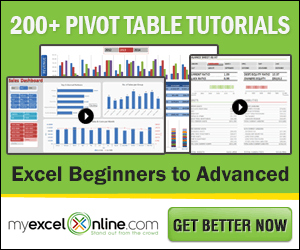 See more recommended Excel products.
Note: I am an affiliate for some of the products mentioned in this newsletter, and earn a commission on the sales.
__
Contextures Inc., Copyright ©2019
All rights reserved.